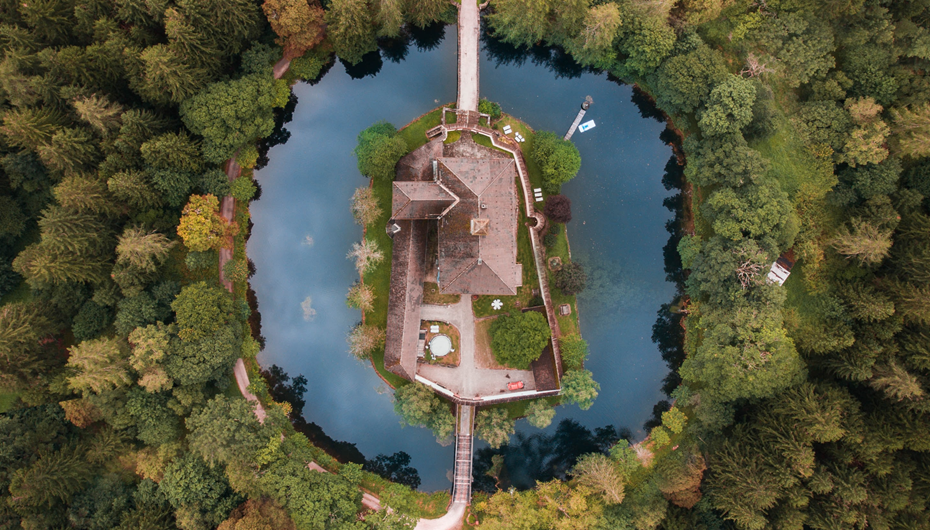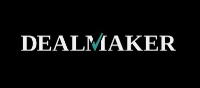 Dealmaker
Posted at Nov 28
If you're trying to build something (a company, a product, a service) and not simultaneously building a community, then the future is likely dim. Customer acquisition costs have never been higher due to App Tracking Transparency (that's a whole other post - explainer here) alongside increasing competition because it's never been easier to start a business in a world of AWS, 3PLs, Shopify, open AI models, and other software tools that are essentially a business in a box.
This is why community matters. Community by its nature is a group of like-minded individuals coming together, and this ultimately can equate to built-in distribution. And I cannot stress this enough: distribution is the best and biggest competitive moat. In some sense, distribution is all that matters; you could have the best product/service in the world, but without a distribution moat you'll be left high and dry.
A great example of this is in the newspaper business – once upon a time the printing presses and physical ...more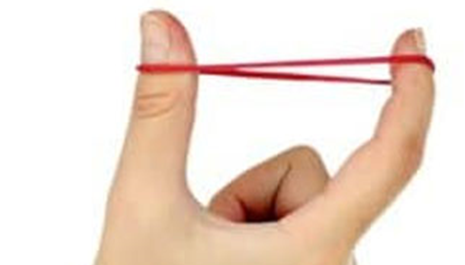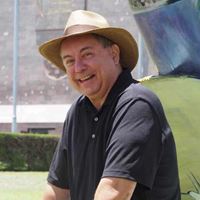 Ron Costa
Posted at Oct 3
Many seeking to raise capital for their business usually use the tried-and-true Regulation D exemption from the IRS. But did you know that going the Regulation A (Reg.A) route may provide you with more flexibility, both in the short and long term? In this podcast, Mike Brette from Small Cap Equity Advisors discusses some of the options, nuances, and advantages that Reg.A provides compared to a private placement under 506(c) Reg D. But you have to do it all correctly. And one thing's for certain: you don't want to raise any red flags with the SEC!
Many think raising money under Reg.D is cheaper, better, and faster than doing a Reg.A. Are they right? Despite being around for a while now, not many business owners, CEOs, and issuers truly understand crowdfunding, especially Reg.A crowdfunding. When you listen to this podcast, you'll get a better understanding of why Mr. Brette is so bullish on the topic. From its liquidity options on secondary markets, costs invo...more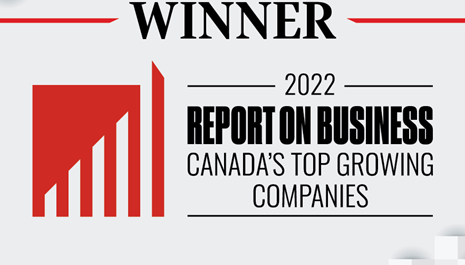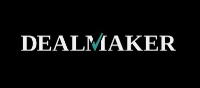 Dealmaker
Posted at Sep 23
All founders and leaders know how hard growth is. Most days it comes as incremental steps - but sometimes, it's an exponential phenomenon that is powered by the incredible team you've built. This is one of those days.
With our office HQ in Toronto, but our satellite offices in Texas and Florida, we are proud to be named Canada's 3rd fastest-growing company for 2022. Although we are #3 overall, we are #1 in the Tech category.
We are building the 'Shopify solution' for the capital markets with a focus on making it easy for brands to transition from traditional venture capital (VC) raises to a more global, digital solution.
We are focused on serving our issuers and partners - which sets us apart from our competition. Crowdfunding portals are typically focused on attracting investors and providing value to them. Our technology is focused on powering up our partners to raise multiple deal types for multiple issuers AND providing a solid, innovative, end-to-end solution for issuers to ...more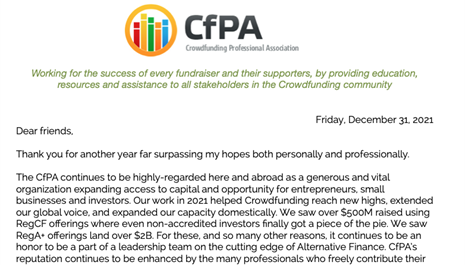 Friday, December 31, 2021
Dear friends,
Thank you for another year far surpassing my hopes both personally and professionally.
The CfPA continues to be highly-regarded here and abroad as a generous and vital organization expanding access to capital and opportunity for entrepreneurs, small businesses and investors. Our work in 2021 helped Crowdfunding reach new highs, extended our global voice, and expanded our capacity domestically. We saw over $500M raised using RegCF offerings where even non-accredited investors finally got a piece of the pie. We saw RegA+ offerings land over $2B. For these, and so many other reasons, it continues to be an honor to be a part of a leadership team on the cutting edge of Alternative Finance. CfPA's reputation continues to be enhanced by the many professionals who freely contribute their time and expertise to advancing the association and the industry. There have been so many noteworthy moments and I look forward to seeing even more debut in '22.
In 2021...more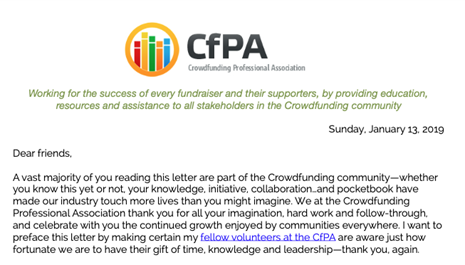 Sunday, January 13, 2019
Dear friends,
A vast majority of you reading this letter are part of the Crowdfunding community—whether you know this yet or not, your knowledge, initiative, collaboration...and pocketbook have made our industry touch more lives than you might imagine. We at the Crowdfunding Professional Association thank you for all your imagination, hard work and follow-through, and celebrate with you the continued growth enjoyed by communities everywhere. I want to preface this letter by making certain my fellow volunteers at the CfPA are aware just how fortunate we are to have their gift of time, knowledge and leadership—thank you, again.
At its simplest, Crowdfunding lives at the intersection of crowdsourcing and alternative finance, and even until recently was seen more as a funding method for ventures too risky for conventional capital or for entrepreneurs lacking loan-worthy collateral or relevant experience. But in just six+ years since passage of the JOBS Act, Crowdfu...more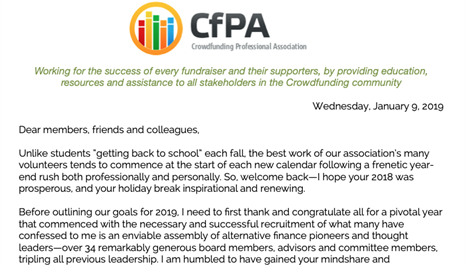 Wednesday, January 9, 2019
Dear members, friends and colleagues,
Unlike students "getting back to school" each fall, the best work of our association's many volunteers tends to commence at the start of each new calendar following a frenetic year-end rush both professionally and personally. So, welcome back—I hope your 2018 was prosperous, and your holiday break inspirational and renewing.
Before outlining our goals for 2019, I need to first thank and congratulate all for a pivotal year that commenced with the necessary and successful recruitment of what many have confessed to me is an enviable assembly of alternative finance pioneers and thought leaders—over 34 remarkably generous board members, advisors and committee members, tripling all previous leadership. I am humbled to have gained your mindshare and commitment toward pursuing the CfPA's noble mission. However, I emphasize "toward" because, as an organization, our ultimate fulfillment remains just over the horizon—we have much to...more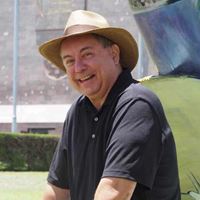 Ron Costa
Posted at Aug 23
Despite being around for years now, there's still major confusion from issuers regarding the benefits and drawbacks of Regulation A (Reg.A), Regulation CF (Reg.CF), and Regulation D (Reg.D) crowdfunding offerings. What option is right for you? In this podcast, Mike Brette, the CEO and Founder of Small Cap Equity Advisors goes over why he believes Reg.A is the superior choice in most instances, plus provides advice as to what issuers should be doing (and what they shouldn't be doing as well) in order to achieve a successful capital raise.
Reg.A, Reg.D, Reg.CF… What's best for you and/or your company? And how much will it all cost you? Based on the reasons Mr. Brette provides in this podcast – both pro and con, he makes a strong case that regardless of the size of your raise, you should strongly consider the Reg.A option right from the start.
Restricted stock, "dead money", valuation determination, accreditation of investors, liquidity issues, possible advertis...more