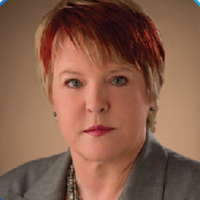 Biography
Sara Hanks, CEO of CrowdCheck and Managing Partner or CrowdCheck Law, is an attorney with over 30 years of experience in the corporate and securities field. CrowdCheck and CrowdCheck Law together provide a wide range of legal, compliance and diligence services for companies and intermediaries engaged in online capital formation, with a focus on offerings made under Regulations A, CF, D and S, whether of traditional or digitized securities.
Sara's prior position was General Counsel of the bipartisan Congressional Oversight Panel, the overseer of the Troubled Asset Relief Program (TARP). Prior to that, Sara spent many years as a partner of Clifford Chance, one of the world's largest law firms. While at Clifford Chance, she advised on capital markets transactions and corporate matters for companies throughout the world. Sara began her career with the London law firm Norton Rose. She later joined the Securities and Exchange Commission and as Chief of the Office of International Corporate Finance led the team drafting regulations that put into place a new generation of rules governing the capital-raising process.
Sara received her law degree from Oxford University and is a member of the New York and DC bars and a Solicitor of the Supreme Court of England and Wales. She serves on the SEC's Small Business Capital Formation Advisory Committee. She holds a Series 65 securities license as a registered investment advisor. Sara is an aunt, Army wife, skier, cyclist, gardener and animal lover.
See: https://www.crowdcheck.com/about-us

January 10,
Sara Hanks
replied:
This question has been the subject of a lot of debate over the years since the JOBS Act was enacted. Some lawyers (and many platforms) take the view that their diligence obligations are limited to those set out in Rule 301 of Reg CF (make sure the issuing company tells you it has complied with its obligations, make sure there's a record-keeping mechanism, and make sure the company isn't disqualified by reason of the bad actor prohibitions). Others point to the provisions of Section 4A(c) of the Securities Act, which says "issuers" are responsible for any misstatements unless by exercise of reasonable due diligence they couldn't have known there was a misstatement, and provides that "issuer" includes anyone "selling" the securities. People in the limited-liability camp argue the portals aren't "selling" and thus aren't "issuers". The SEC says, under certain circumstances, portals may be liable for misstatements by issuers.
This debate may have become largely moot since the 2019 Supreme Court decision in Lorenzo, which provides a separate cause of action under Rule 10b-5 for anyone who "disseminates" a misleading statement. I cannot work out why this decision does not worry portals more.
The other liability provision that should concern portals is Section 9(a)(4) of the Exchange Act, a relatively new addition to that Act, which provides that liability for misleading statements extends to anyone who "willfully participates" in an offering.
In all these cases, liability can be addressed by undertaking due diligence to ensure that the statements made by a company are not misleading.
In other words, could I raise $5 million today and then another $5 million three years from now?

12/6/2020,
Sara Hanks
replied:
It's $5 million every 12 months.