Tags
Blockchain Anthropology Consumer behavior Health Cryptocurrecies Decentralization Entrepreneurship startups digital transformation crowdfunding
Latest Knowledge Board posts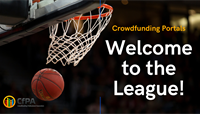 Funding Portals - Welcome to the League!
Monday, April 12, 2021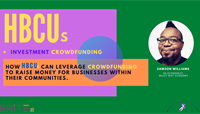 HBCUs + Investment Crowdfunding
Tuesday, April 6, 2021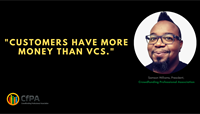 Customers have more money than VCs
Wednesday, March 24, 2021
Biography
Samson Williams, Problem Solver
Crowdie Advisors - Crowdfunding Demystified, Small Business Simplified
Washington, DC, USA
Instagram | Twitter: @CrowdieAdvisors

Samson is a classically trained anthropologist, entrepreneur and finance expert who is happy to share the business and startup lessons he's paid the iron price for. Specialties include: equity and debt crowdfunding, blockchain use cases, cryptocurrency regulations, initial coin offerings, the #SpaceEconomy and explaining all the above, in plain English, to investors, government officials, small children and c-suite executives.
Highlights of Samson's career:
Host of "The Space Economy Show"
President, Crowdfunding Professionals Association
Adjunct Professor, Columbia University in NYC, "Blockchain, FinTech, AI and Beyond"
Adjunct Professor, University of New Hampshire School of Law, "Blockchain, Cryptocurrencies & Law" program
Selected as the 2017 Irish Ambassador for Crowdfunding to the EU's Crowd Dialog, representing Ireland as one of the 28-member countries at the European Union's annual crowdfunding conference in Athens, Greece
Samson spent 2008 – 2016 at Fannie Mae as Emergency Manager, managing an REO portfolio of $20B in distressed assets; then as Deputy Chief of Staff Operations & Technology Executive Office; blocking, tackling, putting out fires and babysitting c-suite executives
3x Marine Corps Marathon finisher and running enthusiast, who prefers to spend his weekends fishing, playing chess and reading about the latest in IoT and Biotech
Samson graduated from Florida State University with a Bachelors of Science degree in Cultural Anthropology and holds a Masters in Emergency & Disaster Management from American Military University. Samson's most valuable educational asset is his common sense and experience, which he employs regularly to overcome humanity's biggest challenge to technology adoption and organizational change – humans. For more information on Samson or to connect with him please visit his LinkedIn page: https://www.linkedin.com/in/samson-williams-axesandeggs/
Education
Florida State University
Bachelor's Degree
Anthropology
American Military University
Master's Degree
Masters in Emergency Mgmt