I've never been able to create great Art -- but I can appreciate it when I see it.
And the work of Stijn van Schaik, a 21-year-old Dutch art student, who posted his "Soul" for sale using an #NFT on #OpenSea is pure genius.
It's a brilliant work of digital art in our digital age and he titled his work the "Soul of Stinus". It's the world's very first human Soul ever sold via NFT -- so I went ahead and paid some ETH for it.
You can read background about his project here:
A Student Is Selling His "Soul" As An NFT
https://www.iflscience.com/technology/a-student-is-selling-his-soul-as-an-nft/
Here's another reference:

Student Selling His Soul as an NFT
https://www.entrepreneur.com/article/423368
What makes his work particularly unique is not the digital image that he associated with the sale, but the fact that he wrote a detailed and legitimate (/humorous, in my opinion) contract that governs the sale.
Here are the terms of sale for the Soul.
https://stijndotsocial.files.wordpress.com/2022/01/sale-of-soul-agreement.pdf

As media and investor hype continues to inflate the NFT bubble, what most buyers and the public fundamentally don't understand is that 99.9% of NFTs sold today are not the "digital art" they expect, but instead, keys to meta-data on some blockchain that contains a URL that points to an image hosted elsewhere. That's why NFT critics can say "right click and copy, I now own it too."
Some people characterize an NFT as a receipt that merely conveys bragging rights that you spent money – but the underlying thing that may have value is elsewhere and may not be possessed by the holder of the receipt.
I agree with that characterization -- but I also think most people don't care. At this point in time, most NFTs are merely chips at the gambling casino of OpenSea (or pick your platform). Some chips are green, some chips are blue, some chips contain URLs that point to a Bored Ape, while other chips contain URLs that point to pixelated crypto-punks.
One thing that makes Stijn's work so brilliant is that, putting aside the debate about the existence of a Soul (and whether or not it can truly be owned by others), it recognizes the fallacy of NFT ownership today because for most digital art NFTs, there is no ability to exclusively possess the item being traded. In contrast, his contract cleverly assigns full right and title to his Soul on an exclusive basis. In other words, contractually and physically, there's no way someone else can "right click and copy" his Soul which he's conveyed to the buyer (me). I also appreciate that he selected the Polygon blockchain to mint his NFT, instead of an energy-intensive, carbon-spewing Ethereum chain which is horrible for the planet.

His approach can be contrasted with NFT agents selling and perpetuating the myth that an NFT buyer is receiving something with underlying unique value. Take this tweet by Sotheby's that announces a record of $3,408,000 USD for Bored Ape Yacht Club NFT #8817.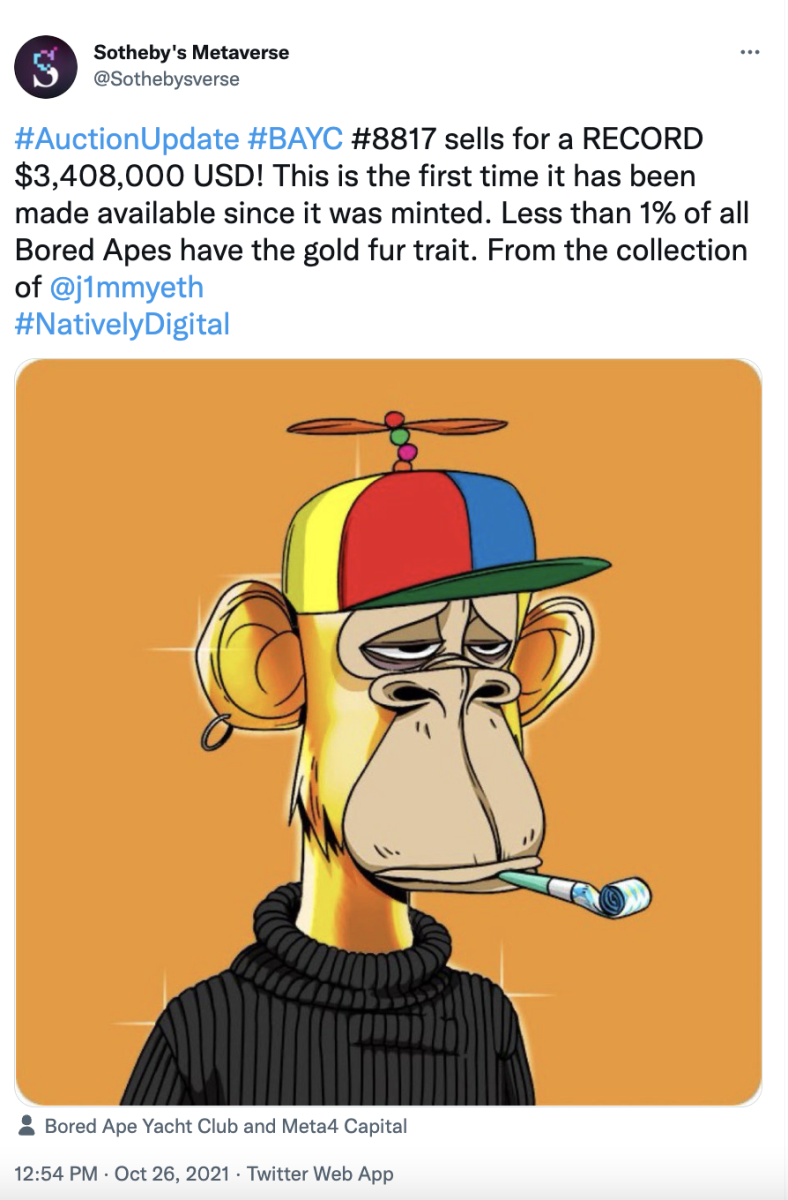 [Text: #AuctionUpdate #BAYC #8817 sells for a RECORD $3,408,000 USD! This is the first time it has been made available since it was minted. Less than 1% of all Bored Apes have the gold fur trait. From the collection of @j1mmyeth]
Sotheby's highlights that "Less than 1% of all Bored Apes have the gold fur trait" which supposedly attributes greater value due to a scarce characteristic of the image. But if anyone can right click and make infinite copies of that same image, how scarce is it? Everyone can possess the image referenced by the URL in the meta data of Bored Ape Yacht Club NFT #8817, but not everyone can possess Stijn's Soul (… sounds creepy when written that way).
So why did I buy "The Soul of Stinus" and what am I going to do with it?
First, if nothing else, I love art and I'd like to believe that I'm a small patron of the arts by supporting Stijn's brilliant work. As one of my trusted art advisors told me: "NFTs are a performance art medium. It's the use of the medium to convey the conceptual idea that matters -- not the medium itself. The embodiment is just digital material." Stijn indicated that he created this work because he wants to educate people about NFTs and I agree that his art is a great way to do so.

Second, I'm involved with a new (stealth) initiative around what I'd characterize as "NFTs 2.0" and informing people about the problems inherent with the current state of the industry – especially as it relates to the dangers of buying into the bubble of "NFTs version 1.0"- supports that effort.
Finally, I'm reselling it. What's a fair price for digital art in its finest form? There are 10,000 "unique" Bored Apes out there and the most expensive one sold for $3,408,000 USD and while I expect there to eventually be soul-selling copycats since there's now a market signal, there is only one "Soul of Stinus" – the very first soul ever sold as an NFT on planet earth. Therefore, I am re-selling this NFT Soul for $3,408,805.63 USD (in today's USD equivalent of ETH) -- an amount slightly greater than the record-breaking Bored Ape. If Christie's Auction House wants to represent this sale, I'll be happy to turn marketing over to them. Once it sells, 10% is allocated to go back to the creator (artist) per the terms of sale on OpenSea, but after I clear taxes (yes, there are taxes on gains from the sale of NFTs) and any agent fees, I will gift an additional 10% back to Stijn van Schaik. I believe the artist should have a larger share from the forward sale of his work.
Interested? You can find the Soul of Stinus for sale on OpenSea at this link:
https://opensea.io/assets/matic/0x2953399124f0cbb46d2cbacd8a89cf0599974963/58987954157588204228000734392276878301575762734372657352209027319631624273921/
And no, despite today's date, this is not an April fool's prank.

NOTE: Another reference to the original effort:
https://www.crypto-insiders.nl/nieuws/nft/haagste-student-uploadt-ziel-als-nft-op-de-blockchain-en-jij-kan-m-kopen
Samson Williams s...@...m Ron Costa Devin Thorpe
Register for FREE to comment or continue reading this article. Already registered? Login here.
3