CrowdCheck CEO Sara Hanks Helps Clients Avoid Problems
CrowdCheck CEO Sara Hanks says securities law enforcement differs dramatically from traffic enforcement. If you speed and don't get caught in the act, you don't worry about later being investigated for a traffic violation. Sara says that's not how it works for securities:
We often have the mom conversation. "Well, if everybody jumped off the Brooklyn Bridge, would you do it?"
Part of the problem here is understanding that it takes the SEC [Securities and Exchange Commission] about two years to think about, well, maybe they really shouldn't have done that. And another year to issue the subpoena and another year to capture the information.
We've got people who are receiving subpoenas for stuff they did in 2017. I mean, the SEC is out there. Just because somebody did something recently doesn't mean, A, that they're going to get away with it and B, that you're going to get away with it if you copy them.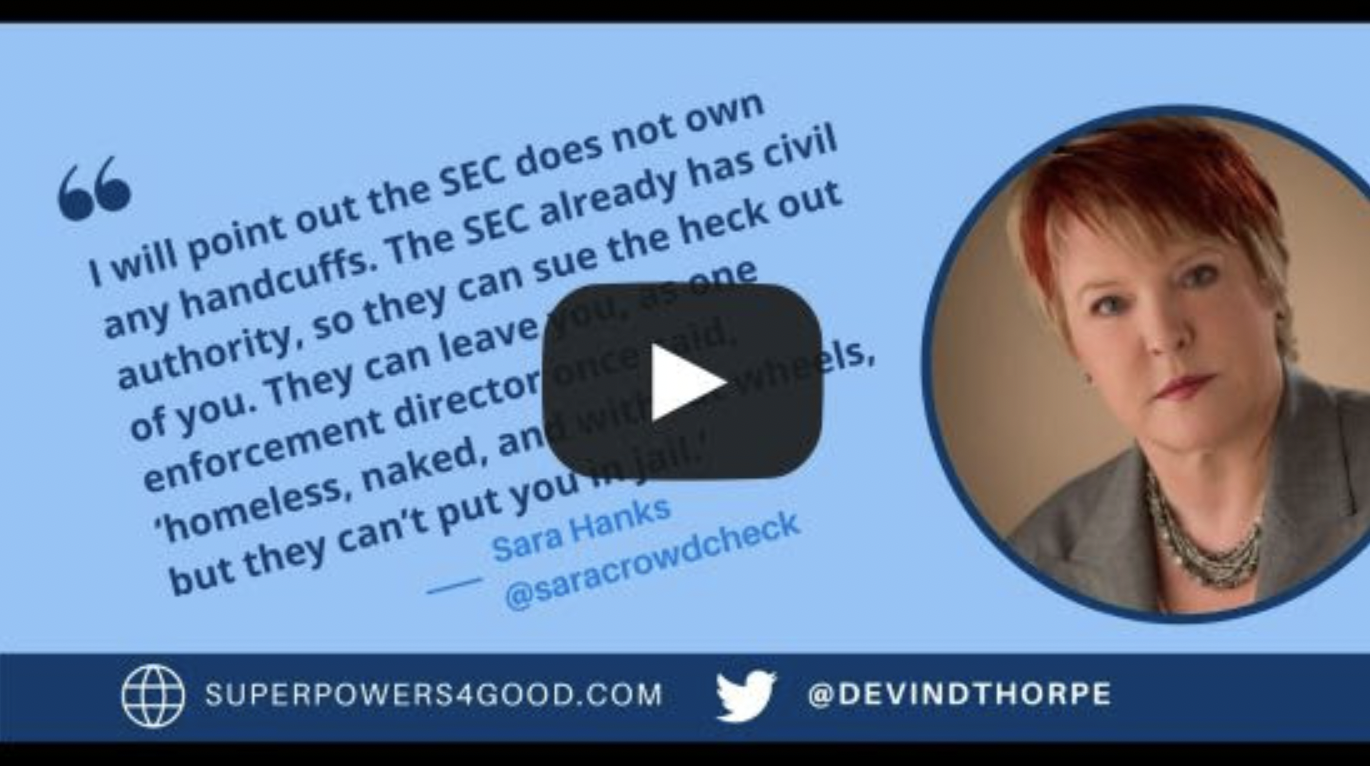 Watch the interview with Sara here.
CrowdCheck is a company that provides a range of legal and compliance services to crowdfunding portals and entrepreneurs issuing securities under Regulation Crowdfunding and Regulation A, the rules that govern crowdfund style offerings over $5 million up to $75 million.
Unlike the relatively carefree world of donations and rewards crowdfunding via GoFundMe, Kickstarter and Indiegogo, there are strict securities laws and associated enforcement in the investment crowdfunding world. Sara spends a lot of time explaining to clients that they really do have to comply.
"We frequently have these conversations where [clients and prospective clients] say, 'Well, we know the SEC is not going to care about that.' We're like, 'Yes, they do. We know them, and they do care about this.'"
Initially, CrowdCheck focused on conducting due diligence for clients. Since a securities lawyer founded it, people asked lots of securities law questions.
"Lots of people would send us chocolate after we answered the questions, and we started thinking we should actually charge fiat money for this as opposed to getting paid in chocolate," Sara says.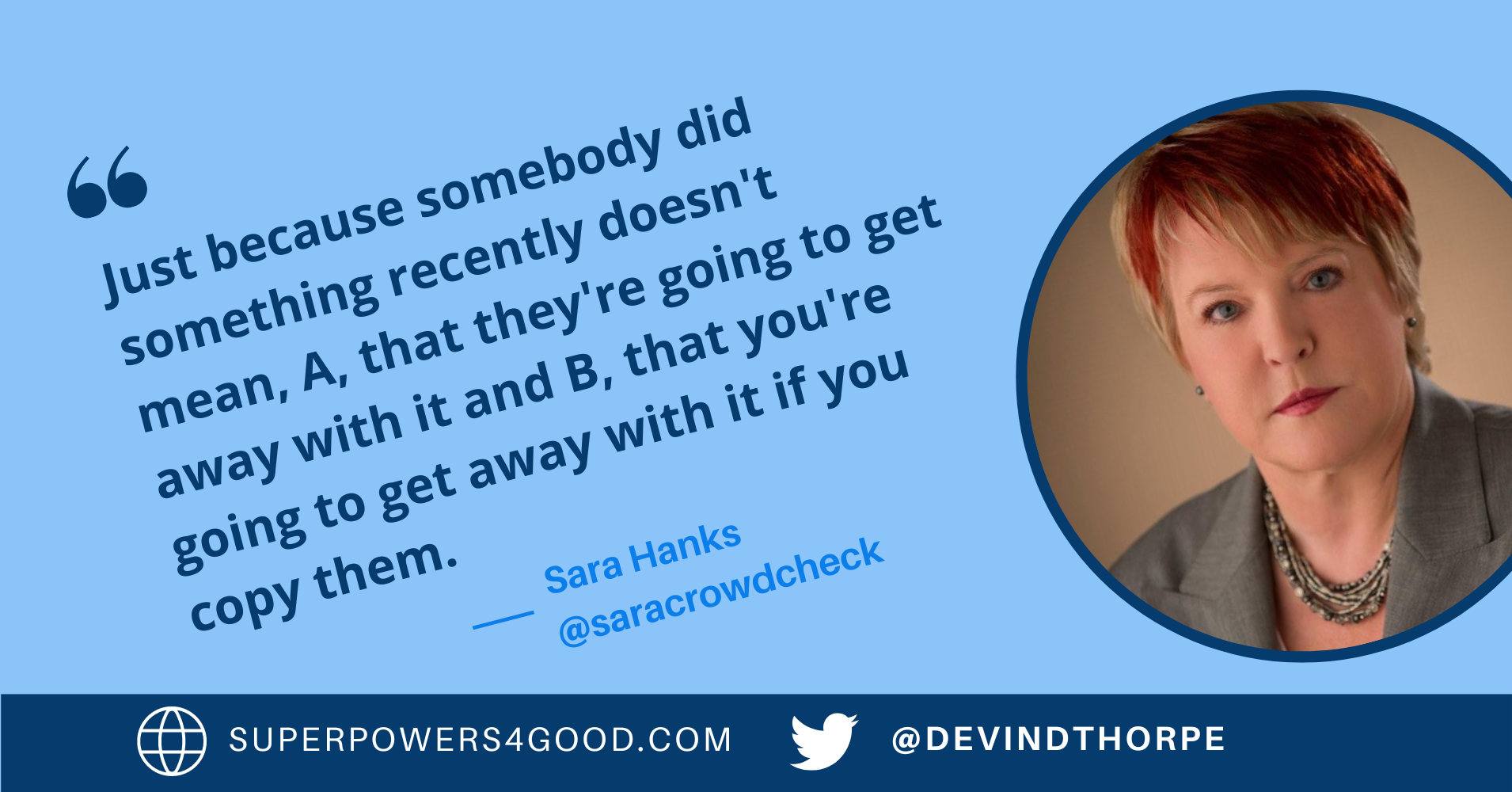 Today, CrowdCheck offers a range of services for crowdfunding, including legal compliance, diligence and filings. "We're just a complete compliance solution," she says.
Sara notes a silver lining about SEC enforcement. "I will point out the SEC does not own any handcuffs. The SEC already has civil authority, so they can sue the heck out of you. They can leave you, as one enforcement director once said, 'homeless, naked, and without wheels, but they can't put you in jail.'"
Don't celebrate too quickly. The SEC folks have friends at the Justice Department who do have handcuffs.
In her work, Sara routinely uses her superpower, her ability to help her clients comply calmly.
How to Develop the Ability to Help Clients Calmly As a Superpower

It is easy to think Sara's superpower is only relevant to lawyers. Before dismissing the leadership lessons she offers, consider that we're all subject to a range of legal and natural laws with which we must comply and help others to do as well. Keep reading.
"I've seen it all on Wall Street," Sara says. "I've been screamed at from managing by managing directors at Goldman Sachs who think that they're going to sue me for $10 million every minute that the market hasn't opened. I've seen it all before, and I'm not going to panic, but we're going to try and get people through."
For Sara, compliance isn't something she feels required to do. Instead, she sees following the rules as a value she holds as part of living in a democratic society. She says:
I believe in rules. I believe in the social contract.
I believe in all of the stuff that came out of the Enlightenment. And, you know, we're taping this just after the the 4th of July, which I'm always so proud of, the Declaration of Independence. It is the most English thing that has ever been written coming out of enlightenment thought.
It's basically the idea that you do have a relationship with society and you don't get something for nothing. A rules based society is going to be a successful society.
"It's a responsibility not just to the clients who are paying us, but to the broader society to make sure those rules are complied with," Sara says. "Because if we don't comply with the rules, everything goes to heck."
By following Sara's example and insights, you can develop the ability to help others comply with society's laws calmly.
====
@Sara Hanks will be speaking at SuperCrowd22 on September 15-16, focusing on crucial regulatory lessons to help issuers comply.
Register for FREE to comment or continue reading this article. Already registered? Login here.
1