The illusion in the start-up world is that anyone can have a great idea and bring it to fruition with grit, determination, and a lot of hard work. A key part of bringing a founder's vision to life is securing funding in order to build a product, app, or service. Without capital, the founder's vision will forever remain only a vision.

So raising capital is tantamount to success. It's never just been about grit and a good idea. Connections, networking, and getting in front of the right people are all key to getting your idea off the ground.

And after you've made these connections and gotten in front of the right people - then what? Does the funding go to the best idea or the strongest founder with the most solid plan?

Statistically speaking, the answer to that is a resounding "no."

In 2021, female founders got 2% of all venture capital (VC) dollars - which was the lowest percentage since 2016. And since 2011, the highest that statistic has ever been was 2.7%.

And not only are female founders getting just the tiniest sliver of the pie, but the check sizes are also smaller (by about 20%) when compared to similar valuations of male-led startups.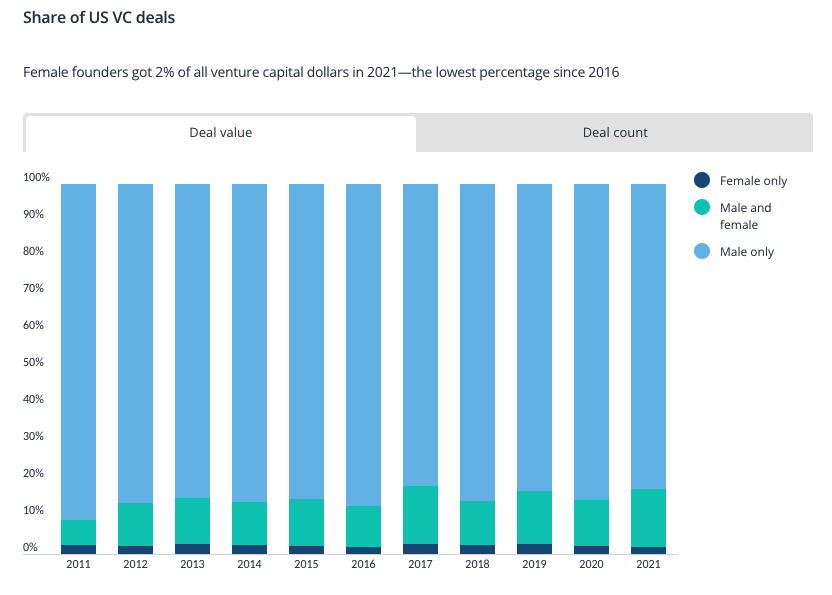 In contrast to that, when looking at Investor Crowdfunding (Reg CF, Reg A Deals), numbers show that start-ups with female founders have represented between 10% and 15% of all Investor Crowdfunded deals since 2020. That's a material improvement to 2.7% in the same year for VC funded.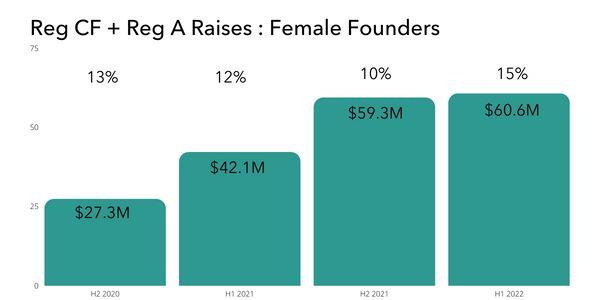 Going from 2.7% to 28% is a material improvement in access to capital. Investor Crowdfunding is truly democratizing access to capital for founders who have been routinely overlooked or shut out.

And Investor Crowdfunding is just really getting off of the ground. The first full year it was available was 2017, since then it's grown from $49.2M total raised to over $507M in 2021.
Impact Investing
But there's more. Not only is crowdfunding raising capital for founders that weren't represented via traditional funding options, but it's also creating a really interesting new phenomenon of "Impact Investing."

So, not only is the crowd more likely to invest in a great idea - regardless of who the founder is - but the crowd is also choosing investments based on their social impact for good.

VC firms want returns and term sheets while the public wants to invest in companies that make the world a better place.

Social impact isn't even measured by VC firms, but these types of companies represent about 30% of the funding raised via Investor Crowdfunding for the first half of 2022.

This trend is largely a generational one - as the Boomers retire and make less investment decisions, Gen X and Millennials are representing a large and socially and environmentally conscious generation, and impact investing is expected to reach the mainstream.

A 2021 study conducted by Fidelity Charitable reports:
• 61% of millennials are active impact investors vs. 23% of baby boomers
• 62% of millennials say impact investing has a higher potential to create long-term change vs. 28% of baby boomers
• 66% of millennials believe in the financial viability of impact investing vs. 23% of baby boomers
And younger generations are generating beneficial social and environmental impacts with their investments—especially via Equity Crowdfunding (ECF). Since July 2021, 29 companies have raised at least $4.5 million through regulation crowdfunding. Eighteen of those campaigns closed in 2022, with five classified as being social impact companies, five as having minority founders and four as having female founders. That means of the 18 $4.5 million-plus campaigns that have closed in the first six months of 2022, more than 25% were considered to have a positive impact.

By contrast, 2021 brought these statistics from traditional venture capital:

• 8% of funding went to impact startups
• 2% of funding went to female founders
• 1.3% of funding went to Black founders
• 0.43% of funding went to BIPOC female founders

These trends cannot be over-emphasized. Where VC firms are protecting their own interests and their investments (as they should), Crowdfunded deals are protecting access to capital for anyone overlooked by traditional funds. Now, anyone with a good idea or who truly wants to make an impact in the world can get access to capital with a community ready to stand behind them and their journey.
Register for FREE to comment or continue reading this article. Already registered? Login here.
5