Crowdfunding ECO Town Hall
Ask to Join
CfPA's Open ECO Group and Town Hall
Register and request to join to see more.

Dear CFPA Community,


We are grateful to Boxabl for providing an interview as part of the CFPA Issuer Interview Series. You may find it attached.


Best wishes,

Rose Kauzeni.

The event will be sponsored by DealMaker, Dalmore and Assurely and their financial support makes
SuperCrowd23
possible. Supporting co-hosts include EGS, Ridgecrest Herbals, Crowdfund Main Street, SMBX, Halyard Compliance, The Local
Crowd
, Rise Up Crowdfunding,
Brainsy
and Crowdfund Capital Advisors.
SC23 will be giving away 12 $100 microgrants at
SuperCrowd23
.
SC23 will present
SuperCrowd23
Impact Crowdfunder of the Year Awards to Aptera and World Tree.
For newsletters or blog promotions, there is a great assortment of articles you can borrow from if you'd like to help promote the event.
Here's the list
.
See you at SuperCrowd!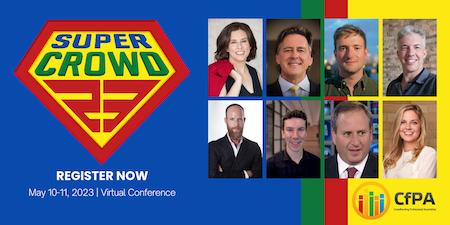 About this event
In 2021, there were 1,035 initial public offerings (IPOs) in the United States. In 2022, however, the number of IPOs dropped to 181. Meanwhile, Reg A+ Investment Crowdfunding has become a growing option for companies to raise up to $75 million from the public. Join the CfPA and industry experts to learn about how companies are utilizing Regulated Investment Crowdfunding (RIC) to meet their capital needs and the future of a secondary market for crowdfunding investments.
Host: Devin Thorpe, President CfPA
Industry Overview: Brian Belley, KingsCrowd
Panelists:
1: Etan Butler, Chairman, Dalmore Group
2: Rebecca Kacaba, CEO, Dealmaker
When? This webinar was held March 8, 2023
Watch the replay: https://youtu.be/MBcvMZ_xhoY
The presentation by Brian Belley, Data and Trends in Regulated Investor Crowdfunding, can be found at this link:
https://drive.google.com/file/d/1BLV7dOZR292jPRcH9CdAQLiLfyOutY3N/view?usp=share_link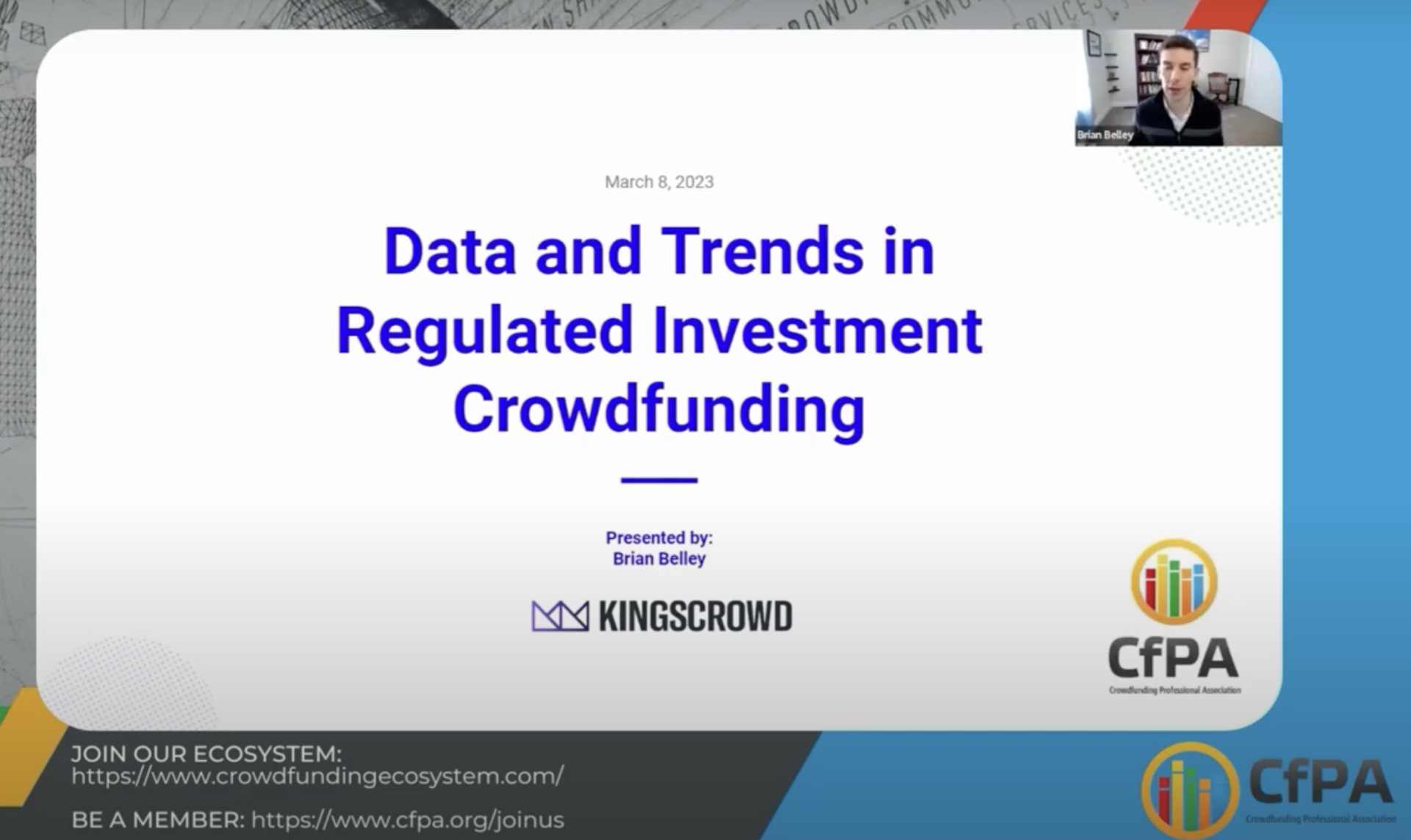 Thank you everyone for participating!