Crowdfunding ECO Town Hall
Ask to Join
CfPA's Open ECO Group and Town Hall
Register and request to join to see more.

About this event
In 2021, there were 1,035 initial public offerings (IPOs) in the United States. In 2022, however, the number of IPOs dropped to 181. Meanwhile, Reg A+ Investment Crowdfunding has become a growing option for companies to raise up to $75 million from the public. Join the CfPA and industry experts to learn about how companies are utilizing Regulated Investment Crowdfunding (RIC) to meet their capital needs and the future of a secondary market for crowdfunding investments.
Host: Devin Thorpe, President CfPA
Industry Overview: Brian Belley, KingsCrowd
Panelists:
1: Etan Butler, Chairman, Dalmore Group
2: Rebecca Kacaba, CEO, Dealmaker
When? This webinar was held March 8, 2023
Watch the replay: https://youtu.be/MBcvMZ_xhoY
The presentation by Brian Belley, Data and Trends in Regulated Investor Crowdfunding, can be found at this link:
https://drive.google.com/file/d/1BLV7dOZR292jPRcH9CdAQLiLfyOutY3N/view?usp=share_link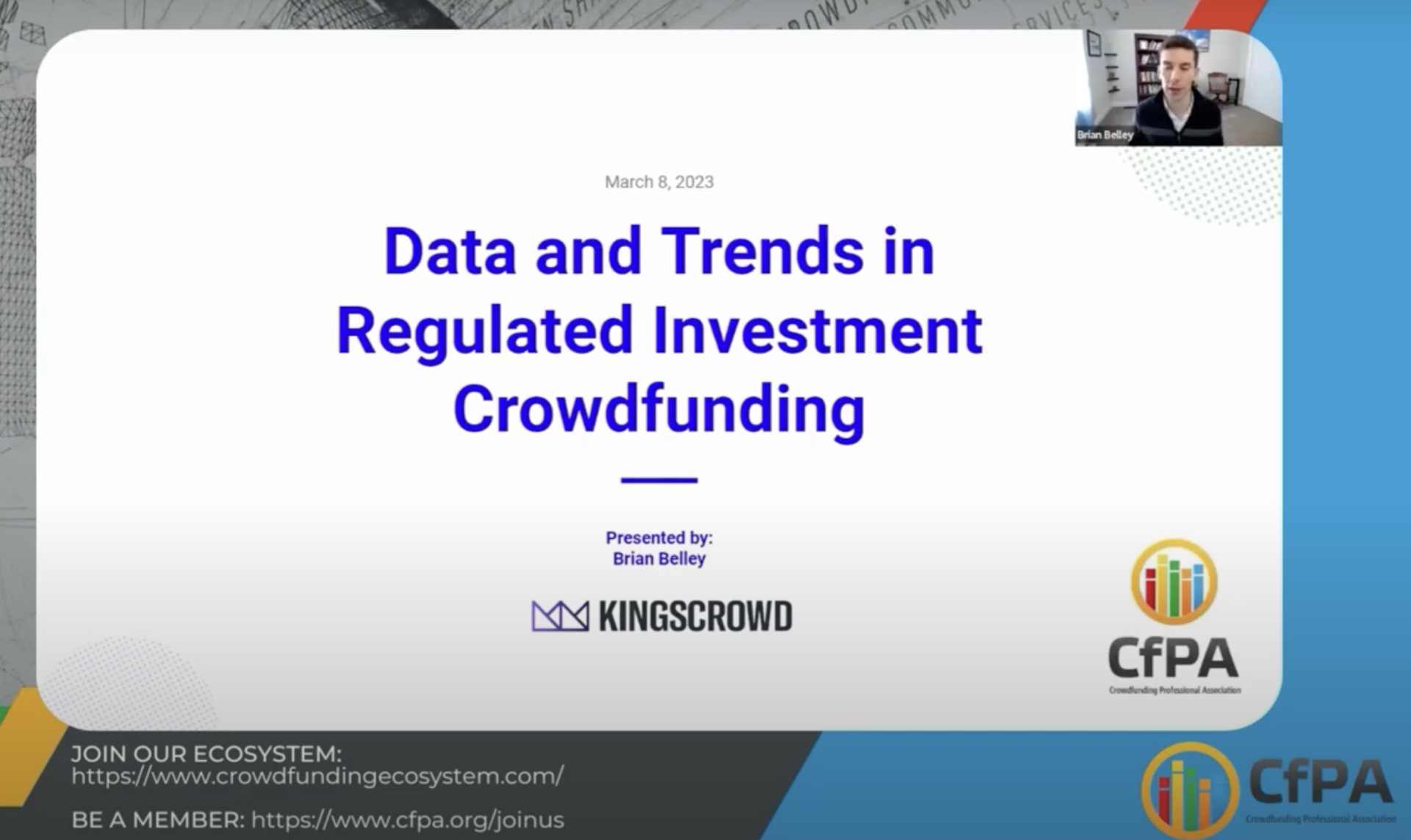 Thank you everyone for participating!



Dear CfPA members and ecosystem participants:
In the interest of our continued support for issuer education (and for prospective issuers), we plan to conduct a series of written interviews with issuers who have successfully completed a crowdfunding raise. Their stories could help demystify crowdfunding for prospective issuers.
And for the people that we interview, it could also help spark some interest in their company or service and be a way for them to "pay it forward" to the next generation of issuers.
If you would like to nominate a company or person that we should consider for this interview series (e.g., one that has successfully been raised via crowdfunding), CfPA would be grateful if you could make an introduction (email: mark.cantona@outlook.com) or send me their name + contact and I will reach out directly
Many thanks!
Mark
CfPA ECO Community Coordinator

Last July, AOIP - The Association of Online Investment Platforms - sent a letter to member of Congress to advocate for changes under the "JOBS Act 4.0"
See the letter here:
https://www.crowdfundinsider.com/wp-content/uploads/2022/07/AOIP-JOBS-ACT-4.0-Policy-Paper_07.06.2022.pdf
One of the things they mention is raising the $5 m Reg CF cap to $10m.
"The AOIP would also like to advocate for the cap on offerings under Regulation Crowdfunding to be raised to $10,000,000 in any 365 day period, as has previously been proposed by the AOIP."
Any thoughts or reactions to this?