Crowdfunding Professional Association (CfPA)
712 H Street NE Suite 2127
Washington, DC 20002
The Crowdfunding Professional Association (CfPA) is a 501 (c)(6) nonprofit trade group that was established shortly after the signing of the Jumpstart Our Business Startup Act ("JOBS Act") on April 5, 2012. The CfPA is dedicated to equitably representing the Crowdfunding industry and supporting the Securities and Exchange Commission (SEC) and Financial Industry Regulatory Authority (FINRA) during the rule making period while providing the industry with education, professional networking opportunities and the tools necessary to cultivate a balanced and healthy ecosystem that will accelerate capital formation and ensure investor protection. Our mission is to create a strong and viable trade association for this new and emerging industry that supports the development of its members and encourages participation and awareness in crowdfund investing across the globe. The CfPA will help members get connected and stay networked in the Crowdfunding industry through CfPA communications, events and growing benefits. CfPA promotes industry best practices through educational events for all constituents in the crowdfunding ecosystem.
Contributors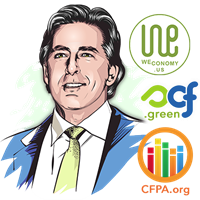 Contacts
Highlights
In pursuit of our mission, we will adhere to some key principles: 1) Identify opportunities where the application of ideas, people and capital formation will benefit the organization and society in significant and measurable ways 2) Develop innovative programs leading to practical, sustainable solutions that are widely accepted and implemented globally 3) Partner with others to leverage our resources and capabilities while avoiding the creation of dependency
Q&A
This listing appears in the following categories:
The DeRosa Group is a family-owned business that invests in residential and commercial properties, with a mission of "Transforming Lives Through Real Estate." It was founded by Matt and Liz Faircloth in 2004. Their journey began with the purchase of a modest duplex just outside of Philadelphia, fueled by a $30,000 private loan. Since then, they have mastered the art of optimizing properties for their highest and best use, revolutionizing single-family homes, multi-family residences, apartments, mixed-use spaces, and retail outlets, as well as offices. This interview was conducted with Herve Francois.
INTERVIEW
CFPA: Can you tell us a little bit about your company? What does your company do and at what stage is it?
Herve Francois: DeRosa Group is a real estate investment company that invests in large multifamily apartment complexes. Our motto, "Transforming Lives Through Real Estate" is all about improving the living situation of our tenants by providing them an attractive plac
...
more
Posted at 8/23/2023 4:12:31 PM